Why Choose PIRANHA?
PIRANHA systems are available in various sizes that can be combined for multiple configurations to expand the fire suppression system coverage. High proximity nozzles allow agent discharge nozzles to be installed out of view while providing the same reliable protection. A flexible agent distribution hose allows appliances to be moved for cleaning purposes without disconnecting the fire suppression system piping.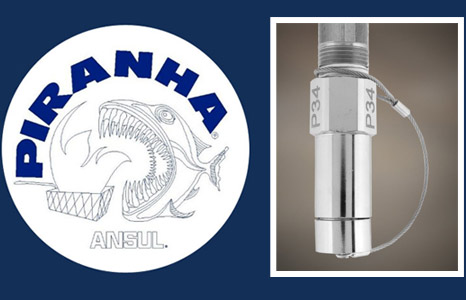 This automatic, pre-engineered, fixed fire suppression system is designed to help protect areas associated with cooking equipment, such as fryers; griddles and range tops; upright, natural charcoal, or chain-type broilers; and electric, lava rock, mesquite or gas-radiant char-broilers and woks. It also detects and suppresses fire in ventilating equipment including hoods, ducts, plenums and auxiliary grease extraction devices.
PIRANHA Overlapping Design
The PIRANHA Restaurant Fire Suppression System employs the best firefighting attributes of two extinguishing agents. The system attacks fire using the knockdown and securing capabilities of PRX Liquid Fire Suppressant. Water follows, quickly cooling the cooking media and further helping to prevent reflash.